Discover more from Adventures in Bead Embroidery
Etsy artist with a focus on all things beads, dogs, beading, beaded dog jewelry, pet portraits and beadwork art. Since 2001.
Experimenting with Change
Beading, blogging, and the future of Broadway
So much has happened in the past 3 months. This pandemic has really forced a lot of change upon us.. Changes in how we socialize, how we learn, how we shop, and how we do business. I wonder how many of these changes will become permanent..
I feel incredibly lucky that I have beadwork and my Etsy shop to work on during this time. I don't usually write about this very much, but I used to have a day job before the entire world changed. I worked backstage in the theatres in downtown Boston, setting up rock concerts and touring Broadway musicals. Its a union job - the only job I have ever had for the past 25+ years. This was going to be a busy summer complete with 5 weeks of shows booked at Fenway Park. But all of that has vanished before our eyes. And now, everyday, I find myself reading updates on when the next stimulus bill might be passed.. I can stay afloat for a little while, but the fact of the matter is the entertainment business will not be 'reopening' anytime soon. Perhaps not until there is a vaccine..
Thinking about that which cannot be controlled seems like a waste of energy, but it is only human nature. I try to distract myself by doing bead embroidery. Thankfully, I have received a fairly steady number of orders recently, one from a customer who messaged to say that it is "always good to support artists, but now especially". I am so grateful. Here is the Bichon I made for her - with his tail curled upwards!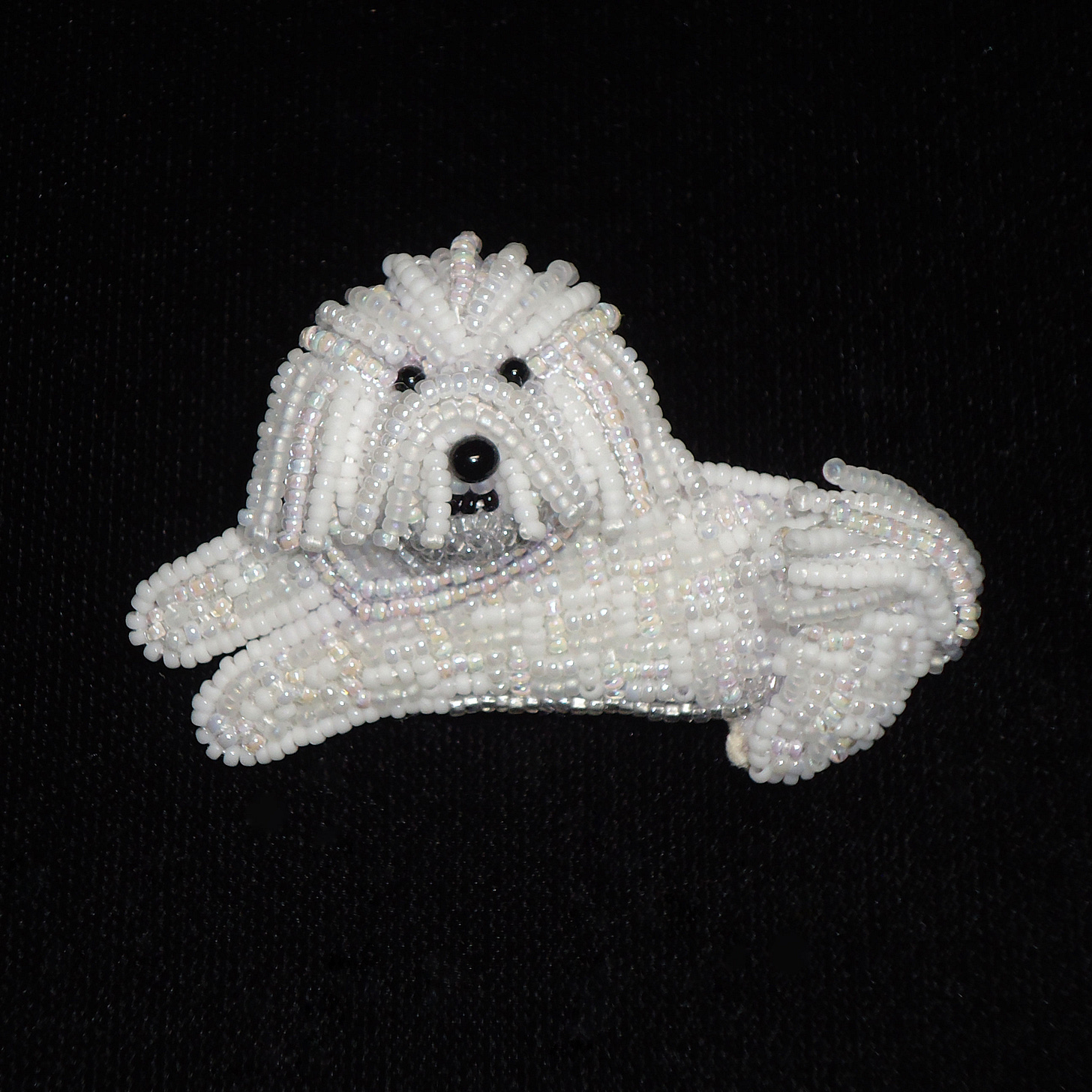 I have also created a cream colored Labradoodle pin, as well as my first product video for Etsy. I have opened up a new shop on Gumroad, and now I am working on writing a new beading pattern!
So I have plenty of things to keep me busy. One thing I have learned is that when everything changes, all you can do is continue to change and (hopefully) grow. A couple more changes in the works: first, I have moved my blog to Substack (hence this new format). Its an experiment of sorts. It seems that my blogs and newsletters have stated a lot of the same information. And second, I would ultimately like to redesign my entire website which will most likely not feature a blog. So I thought Substack might be an effective way to continue blogging while still reaching anyone who has previously signed up for my newsletter.. We'll see how it goes! Until then, have a wonderful 4th of July weekend. Shop local, support small businesses whenever possible, and most importantly, please stay healthy and safe!
♥ Diana