Discover more from Adventures in Bead Embroidery
Etsy artist with a focus on all things beads, dogs, beading, beaded dog jewelry, pet portraits and beadwork art. Since 2001.
Dear friends,
Happy New Year! I hope you had a joyous holiday! I just finished beading the last of my holiday Etsy orders - a beaded Havanese dog brooch. For this piece, I stitched the second layer of bead embroidery in slightly different directions than shown on Etsy to look like my customer's Havanese pup. What do you think?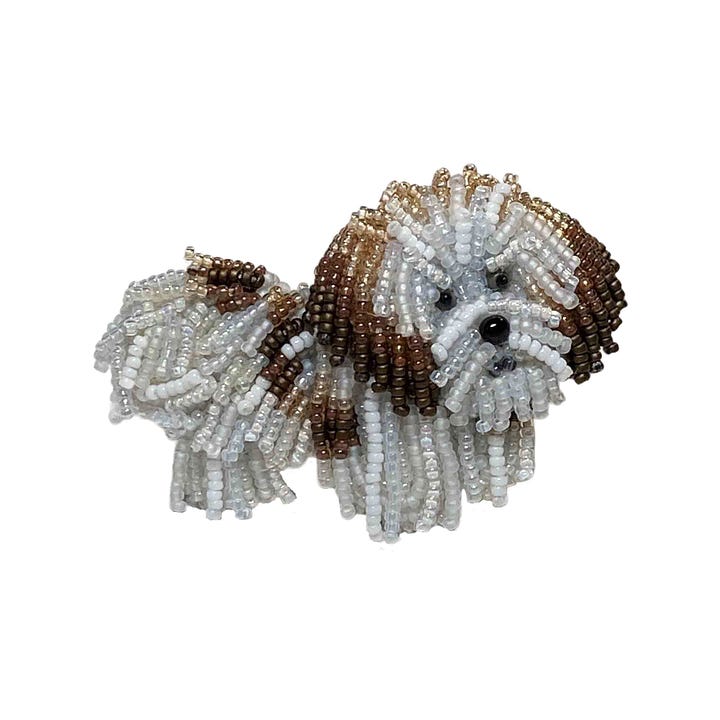 Speaking of Etsy, I am currently running my annual New Year Sale! Save up 23% on the purchase of any Ready to Ship beaded artwork, dog pin, jewelry, beading pattern or bead embroidery kit. Also, save 10% on the purchase of any Print on Demand merchandise including clothing, tote bags, iPhone & laptop cases, prints, stickers, and more.. Sale runs now through January 15, 2023!
One thing is for sure, this Ready-to-Ship beaded Westie (w/ pink collar) brooch won't last long at this sale price!
Also, I have an exciting announcement: one of my largest beaded paintings on canvas, Red Square, has been juried into the Cambridge Art Association's RED 2022 show! This piece measures 40" x 30" and consists of handsewn bead embroidery and acrylics. This show has been split into two parts, and my piece was selected for Show 2.. You can view my piece in person from January 13 – February 4, 2023 at CAA's Kathryn Schultz Gallery & Online. Visit the Kathryn Schultz Gallery at 25 Lowell St., Cambridge, MA 02138.
Thank you for your support and for your interest in my beadwork! Here's hoping for a happy healthy 2023!
♥ Diana
Thanks for reading Adventures in Bead Embroidery! Subscribe for free to receive new posts and support my work.